Our Vision
To help small and medium businesses to change their status quo and conquer the world of digital innovation and build innovative businesses that achieve their dreams and goals.
We know Innovative Businesses will change the course of their respective countries by fuelling economic growth while creating millions of jobs. Our vision is to create success and wealth to all our stakeholders through continuous value creation for all whom we serve.
What We Believe
---
We believe in Australia we can help to create over 700,000 jobs by 2025 through innovative digital initiatives. Moreover, together we have the potential to create millions of jobs and fuel economic development around the world.
Our Framework for High-Performance Digital Marketing
The 5-step framework is recommended by Industry Associations and Governments.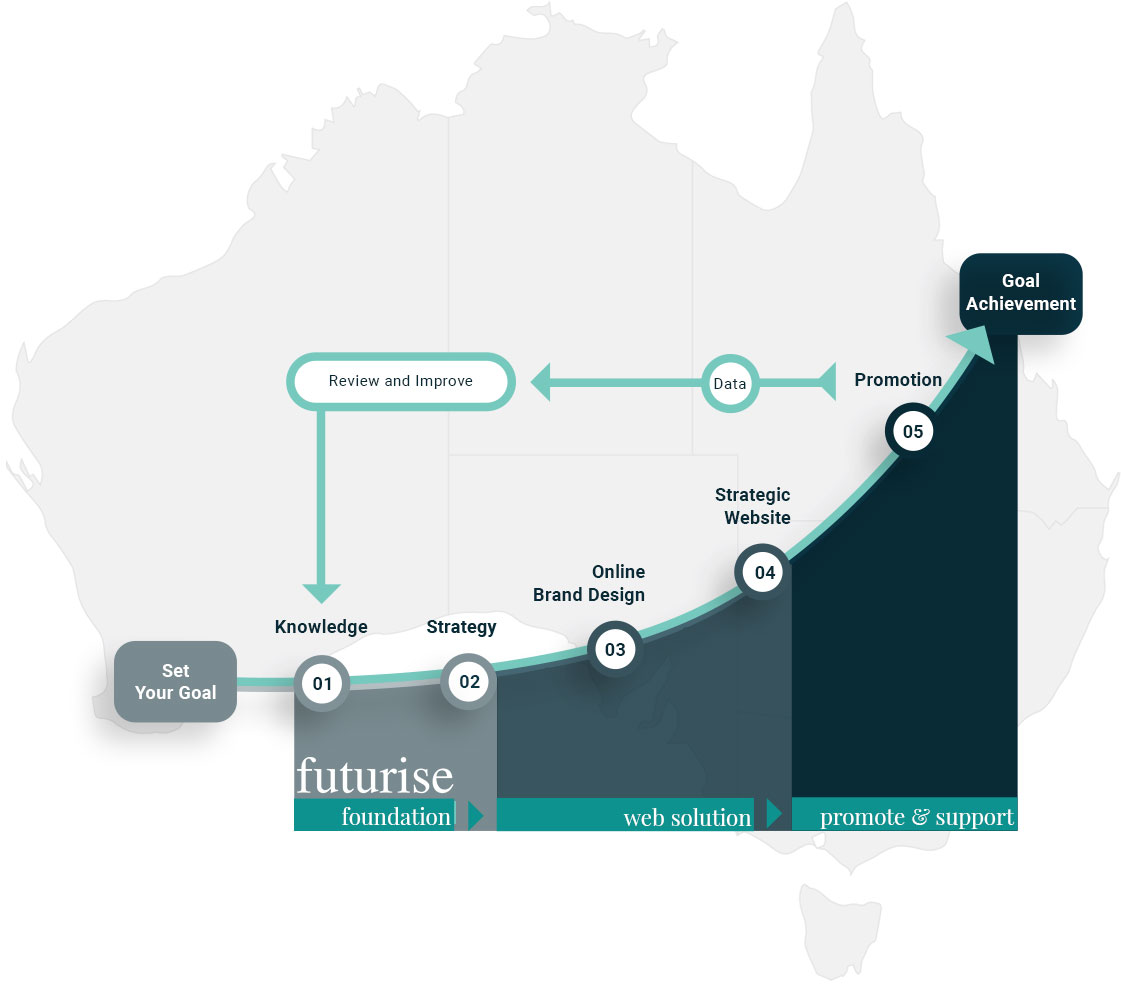 The journey towards our grand vision
We realised our goal to empower a million businesses to accelerate their growth and become world class, was not going to be easy. With over a million businesses closing down in the last 5 years for various reasons, we knew we needed to create mass awareness of the issues faced by SMEs disrupted by digital.
Our first initiative was to start Bizruption, an event which would become the vehicle to create awareness and get the involvement of Federal, State and Local Government, Industry Associations, and big business to support small to mid-sized business owners. This set the stage for subsequent Bizruption events in Sydney, Melbourne to Adelaide which was attended by hundreds of SMEs and stakeholders.
Read more
We've published research of over 8,000 SMEs in 2014, and followed up in 2017, 2019 and 2022 focusing on their issues with digital disruption and transitioning to digital. We've shared these with key figures in the Federal and State Parliament so they can take note of and support SMEs in endeavors of digital and others.
Equipped with research, experience and using over 15 years of IP, we built the best-in-class digitisation solutions for SMEs to transition from traditional business to becoming digitally successful businesses.
In March 2022
---
We witnessed the biggest win in our journey to achieve our vision, of helping businesses overcome digital disruption when the government announced the allocation of $1 billion for digital adoption with a specific focus on small to mid-sized businesses.
---
Milestones
2014
◉ Netstripes was co-founded by Dinesh De Silva, Saadia De Silva and Angelo Grasso in Pyrmont, Sydney.
2015
◉ Inauguration of Bizruption with Kate Carnell as Chief Guest
◉ Presenting the data on the huge issue of digital disruption of SMEs to Minister of Small Business, the Hon. Bruce Billson at Federal Parliament
2016 – 2020
◉ Appointed as the Digital Specialist for Small Business in New South Wales by the NSW Government Program
2016
◉ Launched 'State of the Nation 2016' and presented it to Federal Minster Kelly O'Dwyer & NSW SB Minister and Deputy Premier
◉ Presented research at Bizruption to Federal Minister for Small Business, Hon.Michael McCormack MP – Sponsored by Canon
2019
◉ SMEs meet and present issues with digital to NSW Minister of Finance and Small Business, Damien Tudehope at Bizruption
◉ Launched 'State of the Nation 2019' and presented it to Hon. Michaelia Cash, Federal Minister for Small & Family Business at PwC Barangaroo Bizruption
2020-2021
◉ Video interviews re SME issues & solutions during the pandemic with Hon. Michaelia Cash, and Damien Tudehope, and Australian Small Business and Family Enterprise Ombudsman, Kate Carnell and Bruce Billson
2022
◉ Government allocates $1 billion for digital adoption for small to mid-sized businesses.
Helping Business Owners to Achieve Growth
10,000 +
Businesses Served
15,000 +
netStripes Community
1 million +
Annual SMEs Outreach
Culture
---
NetStripes fosters a culture of innovation, creativity, learning and development.
We celebrate a variety of perspectives and experiences, and we've built the business with an inclusive, global mindset. As a result, we have a blended workforce with talented team members located in Australia and across the globe, all trained in the netStripes methodology.
Our team has specialised skills in strategy, branding, creatives, writers and web developers, to name a few. We would not be who we are today without world-class talent. It is our core ingredient and the source of our success.
We encourage equal opportunity in the workplace and share our strengths and acknowledge our weaknesses to help each other succeed.
We believe in taking responsibility, removing limitations through resourceful thinking and maintaining professionalism in everything we do.
Mission
---
To help Small and Medium businesses step into a digital future.
We believe that by offering the right digital and innovative marketing solutions we can help businesses to rapidly accelerate and keep pace with the digital business evolution.
We are committed to leading business owners toward value creation for their businesses by empowering them with the right knowledge, strategies and tools, so they can futurise their business to achieve and sustain further growth and beyond.
Our Values
Customer Success
This is our number one value and the purpose of our business.
Innovation
Small and medium business innovation is a priority for us.
Honesty
Honesty in the way we deal with everyone, it is as simple as that.
Leadership & Empowerment
Empowering people from all walks of life and encouraging team work and leaderships amongst our people, in the small and medium business communities is a foremost value.
Events at NetStripes
From Bizruption and Bootcamps to Conferences, we hold and attend all kinds of events for SMEs. Come say "Hi" to us!