Here are the upcoming webinar details
The Federal Government announced a range of tax incentives for small businesses with key measures aimed at digital adoption in operations and skill training staff. But what does it mean for you as a business owner, and how can you utilise the incentives efficiently?
Join netStripes CEO Dinesh De Silva as he shares insights on the new tax incentives and what businesses should be doing to take advantage of them right now.
Topics of Discussion:
Building a world-class website and online brand
Create digital marketing that drives business results
Enhance your strategy: transition from a traditional business to digital success
Build knowledge and skills to run business in a digital world
Success stories
A SMART digital strategy is about making wise investment choices to maximise competitive advantage, growth, profit, and value—and then implementing with discipline. But to do that, you first need to measure your financial goals and understand your customers, and their value to your business.
Join expert digital strategist Dinesh De Silva as he shares insights behind the process of goal setting for strategy, key points to avoid, what you should be doing, and how you can find your ideal customers who will help you reach your goals.
Topics of Discussion
Escaping the traps of the wrong financial goals
How to know without a doubt who your ideal customer is
Calculating the LTV for your ideal customer
The metrics you must know before you spend a dollar on marketing
Brand consistency across all marketing touchpoints is a challenge for every company, let alone each social channel. How do you ensure that customers can recognize your brand even if it's their first time seeing you on social media?
A brand is more than a logo or a few attractive designs. A brand is how you make your customers feel, and it is created by taking a consistent approach across every interaction they have with your brand.
In this discussion, we share tips for building a brilliant brand on social media, including:
What not to do on social media channels
What you must do before you start social media marketing
Why is social credibility important for your online business
Understanding which platforms your business needs to focus on
Why building your personal brand awareness is important
All successful websites are built around a successful website strategy, but developing a website strategy is something even experienced business owners can get wrong the first time around.
So, what do you do when you don't achieve the results you want from your strategy?
Join our lively discussion as we deep dive into some of the main factors behind developing a powerful website strategy and what you should be doing to create your own.
Topics of Discussion
Why businesses are not achieving the desired results
Key elements of a business website to create trust and credibility
Digital marketing – the principles of success
How to stand apart from competitors and win against much larger competitors
A whole-of-business approach to online success: rethink, realign and reinvent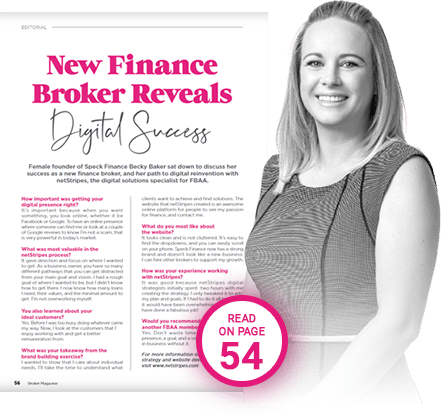 "It Was great to work with the team at NetStripes to get my online brand and blueprint right from the start. Digital presence is so important these days but I did not have the time to do it myself, NetStripes made it easy and was quick to get it up and running. Big thank you to the NetStripes team!"
Becky Baker
Founder – Speck Finance
---
Read more about Becky's path to digital success, and her experience working with netstripes in her interview with FBAA Broker Magazine.
Here's what our customers have to say
Keynote speaker
Dinesh De Silva – Founder of NetStripes
Dinesh is a leading authority on Small and Medium Business Digital Innovation. His current passion is to empower 1 Million SMEs to accelerate their business growth through Digital Innovation, which he believes can change the course of small businesses in this country, whilst creating millions of jobs across the world. Having worked with over 7,000 business owners in recent years, he is regularly called upon to share his insights as a thought leader. Media appearances include ABC News, ABC Radio, Sky Business, Sky News, AFR, and CIO.