Here are the upcoming webinar details
Blockchain technology is becoming one of the main drivers of innovation in the global economy. Its adoption will have a massive impact on how businesses operate in the future and the way business owners organise their daily lives.
The financial industry is experiencing the main impact of blockchain disruption, as financial institutions are among the first adopters of the technology.
What we'll be covering in this webinar:
What is blockchain
Mastering blockchain terminology
Applications of Blockchain in the Financial Services Industry (DeFi)
Understanding DeFi
DeFi Disruptors and its relevance to SME's
Steps you can take
The Federal Government announced a range of tax incentives for small businesses with key measures aimed at digital adoption in operations and skill training staff. But what does it mean for you as a business owner, and how can you utilise the incentives efficiently?
Join netStripes CEO Dinesh De Silva as he shares insights on the new tax incentives and what businesses should be doing to take advantage of them right now.
Topics of Discussion:
Building a world-class website and online brand
Create digital marketing that drives business results
Enhance your strategy: transition from a traditional business to digital success
Build knowledge and skills to run business in a digital world
Success stories
As cybercrime and security breaches become more sophisticated, financial businesses need to organise their security and recovery strategies. From dealing with data loss to frustrated customers, businesses that have suffered an attack know how devastating the impact can be.
In this webinar, Dinesh De Silva will share insights on cybersecurity, measures your business can take to protect against it, and how to create a disaster recovery plan that will maximise your chances of a swift recovery.
What we'll be covering in this webinar:
What is a cyber crisis for a small business?
Why does my business need a cyber security and disaster recovery plan?
How does a small business stay prepared
What do I need to start cyber security and recovery plan for my business
8 Steps to creating a disaster recovery plan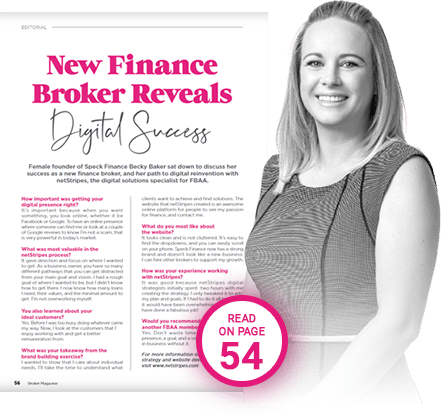 "It Was great to work with the team at NetStripes to get my online brand and blueprint right from the start. Digital presence is so important these days but I did not have the time to do it myself, NetStripes made it easy and was quick to get it up and running. Big thank you to the NetStripes team!"
Becky Baker
Founder – Speck Finance
---
Read more about Becky's path to digital success, and her experience working with netstripes in her interview with FBAA Broker Magazine.
Here's what our customers have to say
Keynote speaker
Dinesh De Silva – Founder of NetStripes
Dinesh is a leading authority on Small and Medium Business Digital Innovation. His current passion is to empower 1 Million SMEs to accelerate their business growth through Digital Innovation, which he believes can change the course of small businesses in this country, whilst creating millions of jobs across the world. Having worked with over 7,000 business owners in recent years, he is regularly called upon to share his insights as a thought leader. Media appearances include ABC News, ABC Radio, Sky Business, Sky News, AFR, and CIO.