Are you ready to create a YouTube channel that brings your community together, drives engagement, and supports your business goals? If the answer's yes, then let's get you set up!
The appeal of video content has sky rocketed over the last few years, accounting for over 70% of online traffic, with that over five billion YouTube videos are watched daily.
YouTube is powerful tool to help you connect with your audience and build brand loyalty, and the best part is you don't need a big budget to deliver results.
To help you get started, in this step-by-step guide, we're sharing everything you need to know to create a successful YouTube channel.
Let's get through the basics first: How to create a YouTube business account
Sign into your Google account, or create a new account specifically for your business.
Once you've created your Google account, make your way over to YouTube's homepage.
On the YouTube homepage, click on the avatar icon within the top right corner of the screen.
Click on "My channel" from the drop-down options.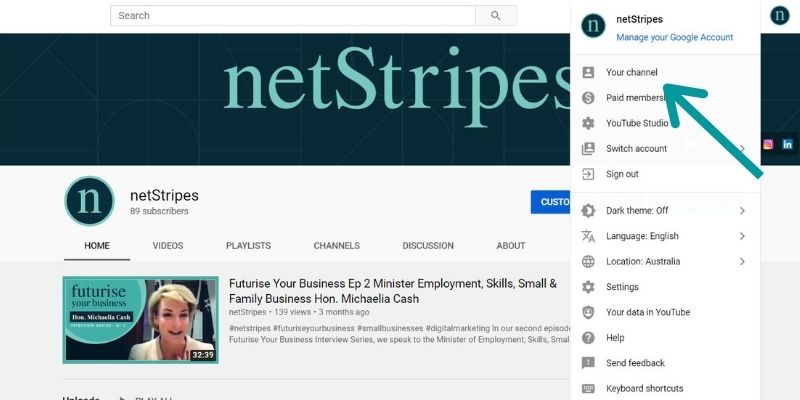 For personal YouTube account creation, add your first and last name into the required fields. For YouTube for Business account creation, click "Use a business or other name" which will lead you to a screen where you can enter your business's name.
Click "Create" to activate your new account.
That was pretty easy, right?
Now that you've created an account, it's time to optimise your channel and make it more visually appealing.
Customising your channel for top search results
Similar to creating a website for your business, it's important to add the extra details that make your business's channel look more on-brand.
On your channel's dashboard, click the "customise channel" link. You'll be directed to a page where you'll see a cogwheel on the right. Click on that and select Advanced Settings.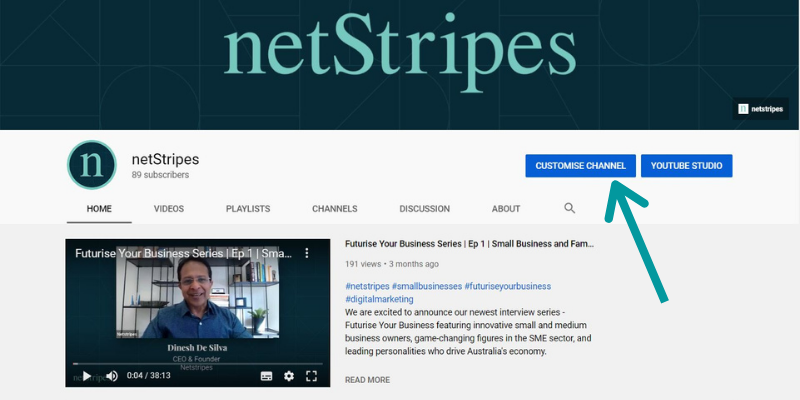 This is where you will enter your channel's description along with the 'keywords' that help your page be discovered by anyone searching for content. These keywords should relate to your business, industry, content or even the problems your business solves.
Just remember, creating a description doesn't have to be rocket science. A short mission statement or welcome message is just fine.
Once you're happy with the description, don't forget to add links to your website and social media channels. These links will appear in your 'About' tab which is great for cross-promoting all of your social channels!  Additionally, add your business email as an extra point of contact.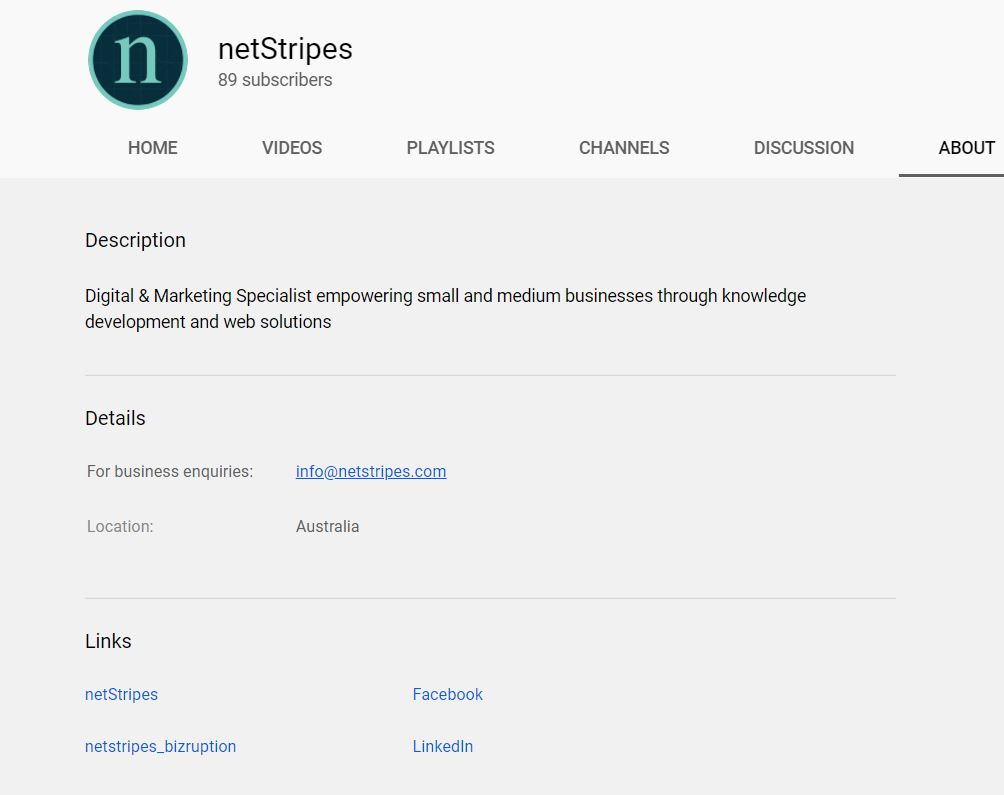 It's within these settings that you also have the options to link a Google Ads account, add a Google Analytics property tracking ID, and handle the advertising selections for when you're ready to promote videos across the platform.
Get your Channel Art right
What we mean by this is your profile image and header image. Your images are a representation of your business so keep images in line with your branding, and if you're adding text, make sure it's concise.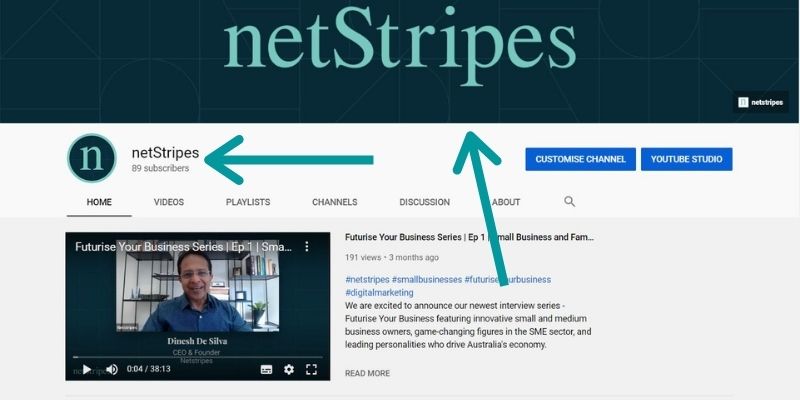 Once images are ready, go back to "customise channel" and click on "add channel art" to upload your chosen image. The recommended channel art size is 2560px x 1440px, and the maximum file size is 6MB.
Start uploading Videos (If you haven't planned out your videos yet, skip this step)
Now that you're all set up, you can finally start sharing video content. Click the "Upload Video" button on the Home tab to get started:
Drag and drop or select a file from your computer to upload your first video. Don't worry, it will be automatically set on private until you're ready to share it with the world.
Tip: YouTube prefers high-definition videos so a best practice tip is to only upload videos with a minimum resolution of 1920 x 1080.
While waiting for your video to upload, start adding your title and description. Similar to the channel description, both of these are important for your SEO results, so it's worth spending some time to think about the words (keywords) people will use to find your content.
Pay attention to your thumbnails
Thumbnails (small images that provide viewers with a quick snapshot of your video while browsing) give you the opportunity to catch the eye of viewers, and convey in a few words why they should choose to watch your video. It is so important to spend quality time making the thumbnail stand out so that it grabs the attention of the viewer's immediately.
Once your video is uploaded, YouTube gives you the option to choose from one of 3 auto-generated thumbnails from the video, or upload a custom design. Using a custom design is always the better option as it allows you to incorporate your branding elements and keywords.

When deciding on the text for you thumbnail – don't just add the title phrase to your image. The wording on the thumbnail should be keywords related to the benefit the user will get by watching the video (eg: How to Identify the Ideal Customer for Your Business)
At netStripes, we create our own thumbnails for all our videos to not only make them more eye-catching, but to also create a cohesive aesthetic that is instantly identifiable to viewers. Open advanced options to add a video category for extra visibility, and enable or disable comments from this screen.
Next up, it's time to add elements to drive as much traffic as possible from your new YouTube video.
Once you're satisfied with everything, hit save!  You can select to make you video public, unlisted, or private, or schedule a date to make your new video public.
Tips for planning your video content
Making videos might sound like something that requires a large, expensive budget. But the truth is, there are plenty of ways to create quality videos on a budget. Here are a few simple tips to keep in mind.
Have a clear idea of the topic
Before you start making videos, it's necessary to have a clear idea of what your channel is about. Since this channel is for your business, the content you create should focus on the industry, and provide value to viewers.
Of course you can expand on your topics later on, but when you're starting out, try and focus on one and do that well.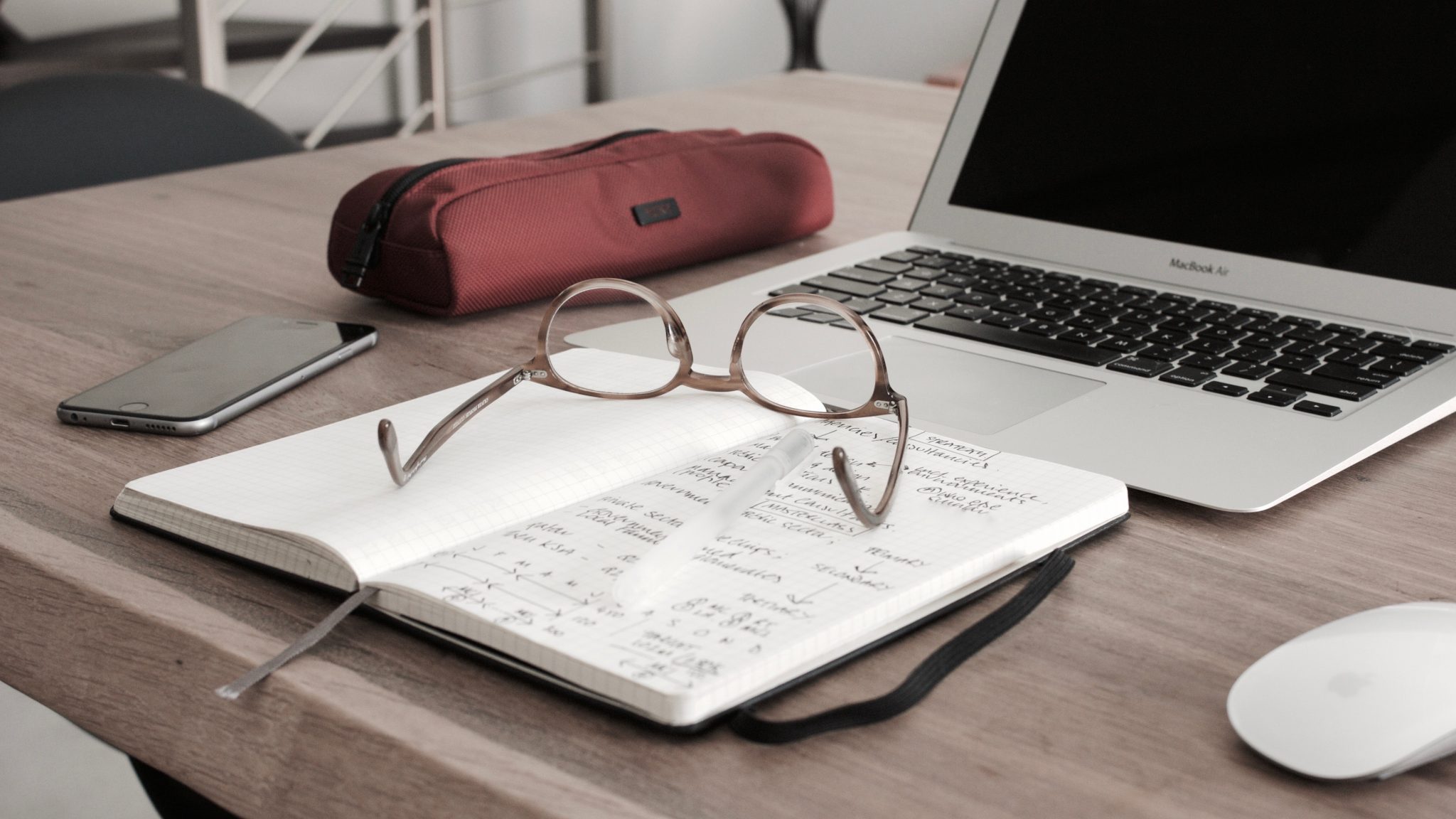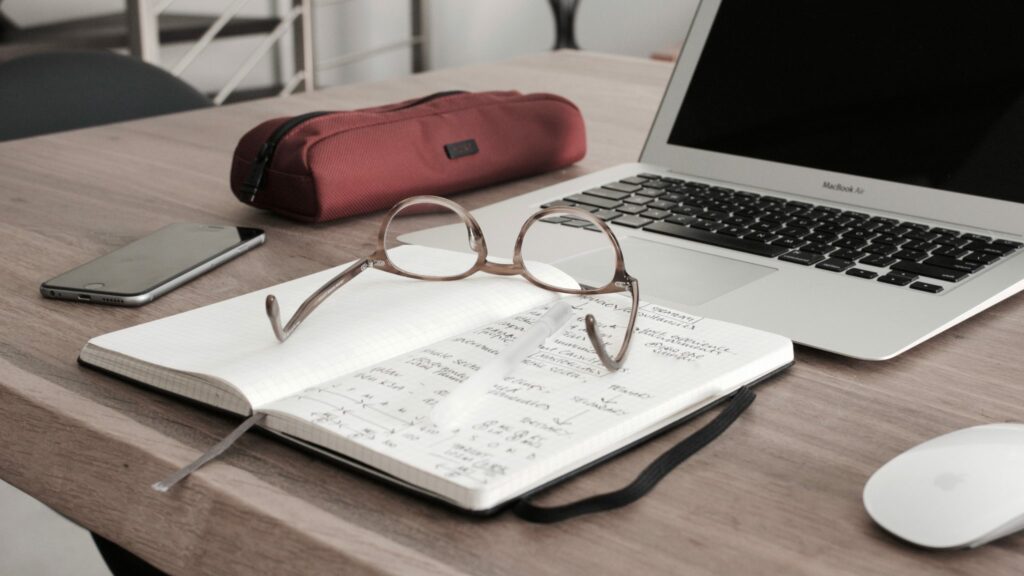 For example, if your business specializes in retail, it would make sense to create playlists dedicated to product reviews, cleaning hacks etc.
Why are Playlists important?
Playlists are a curated group of related videos that tend to be organised by topic or theme.
When someone new visits your channel page, they can easily find the right content for them by browsing your playlists. You can give them simple names based on the topic, or jazz them up with eye-catching titles.
If you're in need of inspiration, there are tools online like name generators that can offer ideas for playlists or even channel names.
Creating content about your brand on YouTube will inevitably help create a more positive view of your brand with a wider audience, so if you've got any customer testimonials, post those as well. 
Start scripting your content
When it comes to recording content, preparation is key. Creating a script provides you with guidance to ensure you stay on point during the shoot. Think of it as having an introduction, focal point, and a conclusion.
Plus, using a script gives you the opportunity to review the content and make sure it hits all of your business goals before the camera starts rolling!
Once you've scripted your video, read it out loud to make sure you're satisfied with it and the content flows smoothly. This will help you identify any stumbling points sooner rather than later.
Create a studio at home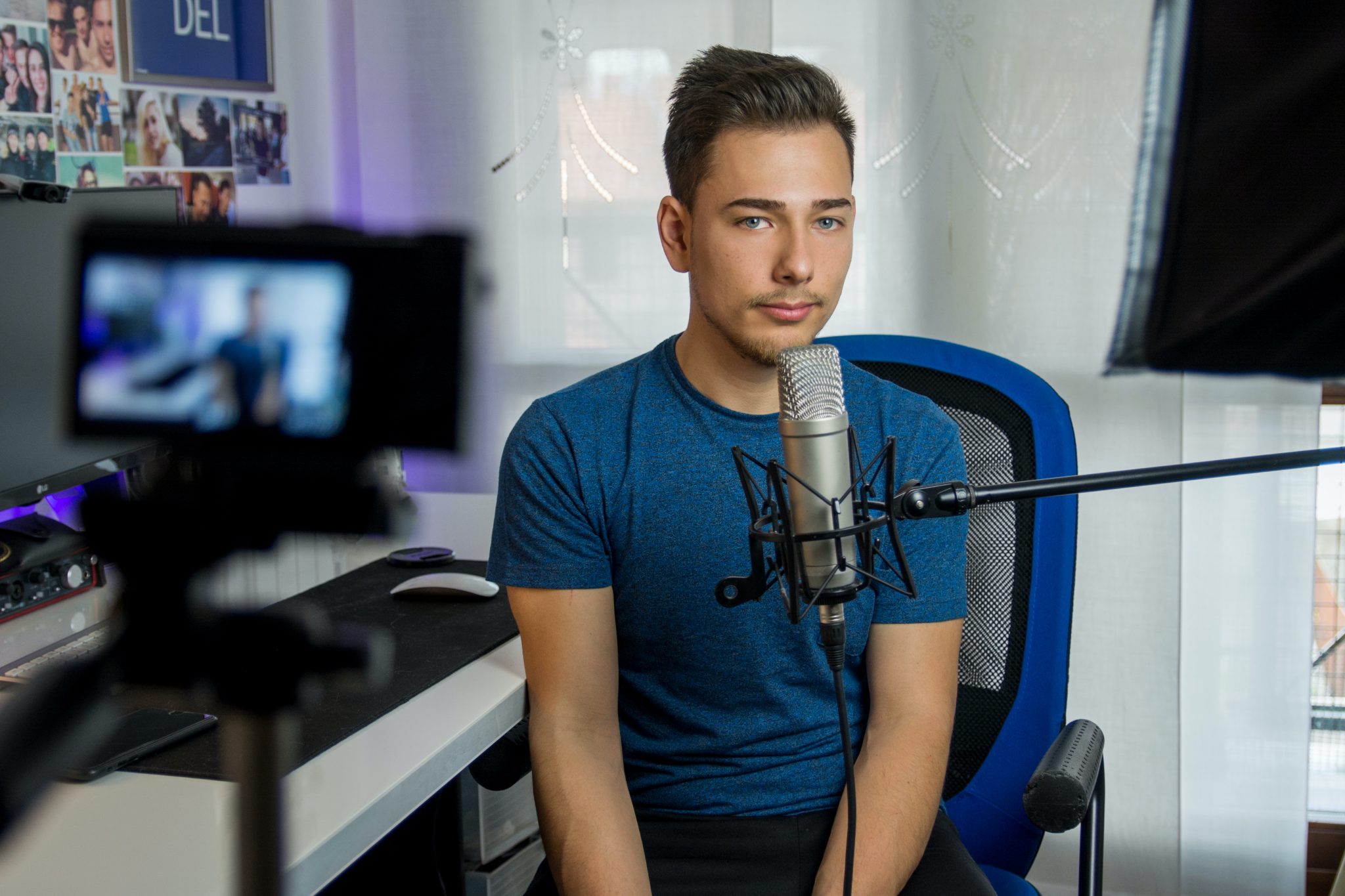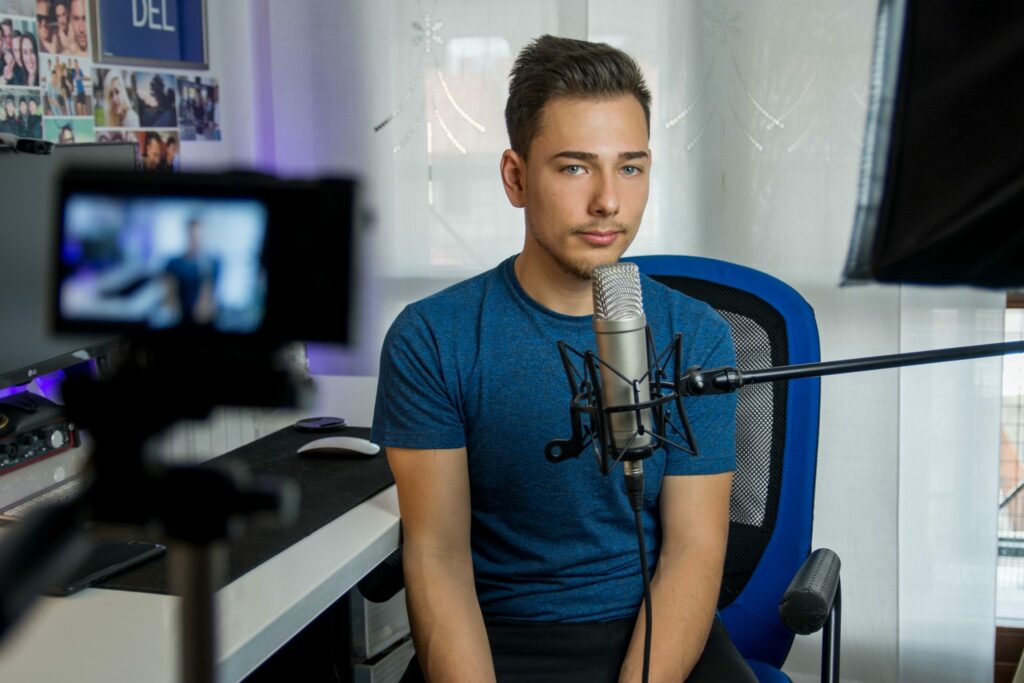 Your backdrop and lighting can seriously affect the quality of your video. Consider how the backdrop supports your brand's message. Do you need to add a pop of colour or would a plain backdrop work best for your content? Are you getting enough natural light? A really well-lit space can look just as good as an expensive lighting set up.
Do you have a camera that records? Honestly, a really good smartphone can take great recordings but there may be limitations during the editing process. Don't worry, you could always hire equipment for a day or a dedicated videographer to make the process more efficient and affordable.
A YouTube channel is a great addition to your overall social media strategy, and can be one of the best tools to building an engaged and loyal audience while also ranking higher on Google Search. So, if you haven't created a YouTube channel for your business yet, now is a great time to get started!
Anxious about starting out on your own? Speak to our digital experts to get their expert guidance on online and social media marketing.   

Crucial digital marketing insights and strategies for the 'new normal'