As all customers are situated at different stages of the customer buying journey, by segmenting the funnel into 5 key stages; Awareness, Education, Validation Purchase, and Retention, you will be able to implement specific inbound and outbound marketing strategies to manage and engage with different customers at different stages.
Note: There is no one-size-fits-all strategy as all businesses are different. So analyse which strategies are best suited for your business.
What is Inbound and Outbound Marketing?
Outbound marketing is where you send messages out to your prospects/ leads/ customers such as email blasts, Google and social media ads, telemarketing, and banner advertising.
Inbound marketing is creating informative, valuable and engaging content to attract prospect/ leads/ customers to your website, social media or email list on their own volition. This content marketing includes blogs, social media, email newsletters, and ebooks.
The Customer Buying Cycle
In today's digital evolution, the customer's buying journey has changed and no longer are customers purchasing in linear steps. Through the Hourglass Marketing Funnel as illustrated below, businesses need to acknowledge additional Retention strategies that are required to help maintain loyal and satisfied customers as well as advocacy of the business.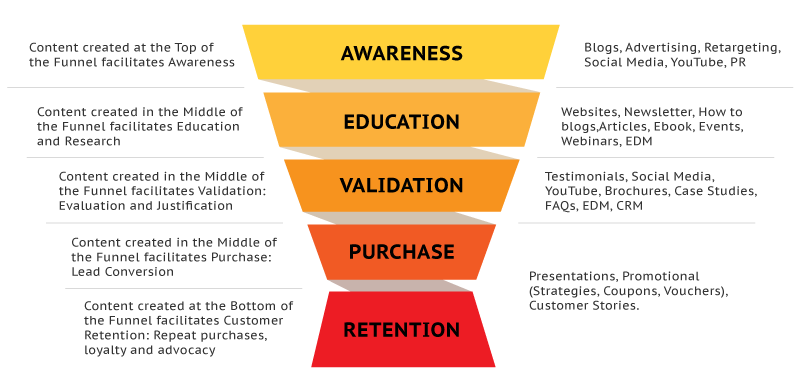 Businesses need to analyse and evaluate the suitable use of inbound and outbound marketing tools to effectively engage with customers throughout each of the 5 stages of the customer journey; Awareness, Education, Validation, Purchase, and Retention.
Example:
Let me give you an example with Beginner Biker Benji, who's recently wanted to get back into shape.
Awareness stage:
Benji has been told by his doctor that he must get back into shape, otherwise, his health may deteriorate. The problem is that he is unaware of the methods that can help with his health. He gone online and found blogs (inbound), social media posts (inbound), news articles (outbound) and advertisements (outbound) that inform Benji of the multitude of ways that will help him get back into shape.
Education stage:
With all the content that Benji reads, he learns about biking and the great perks of the sport. He continues his research and finds a really informative biking blogger and subscribes to their weekly newsletter (inbound). He also attended a Sports Convention Event (outbound) where he gains greater enlightenment from bike athletes and celebrities.
Validation stage:
By this stage, Benji is convinced that biking is the sport for him. He is excited and motivated to get started however he's not sure which bike is suitable for him. From the weekly newsletters he subscribed to earlier, he reads a blog (inbound) on their best-recommended bikes for beginners, based on durable quality and affordable price. He does further research on each bike product and watches testimonials (inbound) and video reviews (inbound) for each. He also found social media groups and communities to get validation on the bike he wants to purchase.
Purchase stage:
Benji has decided on the bike he wants however, he can't decide which retailer to buy from. Though word of mouth (inbound), his friend suggested Bike World as they have really good service and always catering to their customers' needs. Also, Bikes World has been advertising (outbound) their promotions with vouchers and specials. This results in Benji's final decision: to purchase his bike from Bikes World.
Retention stage:
Since Benji's bike purchase, Bikes World not only subscribed Benji to their emailing system, but have also emailed him regularly to follow up with Benji's satisfaction with his purchase. They also send blogs, articles and exclusive promotional offers to keep Benji in the loop and help him through his fitness journey. As a result, Benji always recommends Bikes World (both in person and online) to his friends and peers. This, as a result, becomes great advocacy for Bikes World.
Conclusion
It is important to align your customer's buying journey to your content strategy, whether you use inbound methods or outbound methods. The awareness and education stages require industry and product neutral information. The validation stage is where your customer seeks expert and peer validation, while the purchase stage is where your customer makes vendor and product comparisons. Lastly, the retention stage requires extended nurturing of the customer's relationship with the brand. At all stages, you must consider the right inbound and outbound strategies that will support your customer's buying cycle.
I recommend creating a customer journey map to paint a holistic picture of each touchpoint and interaction you have with your customers. Through a focused and thorough content strategy for your business, you will then be able to achieve the results you want.
If you would like to have your marketing strategy aligned with your business' objectives and goals, talk to one of our Digital Strategists at Netstripes here. Our digital marketing experts with years of marketing experience will be able to advise and propose a digital marketing solution with supportive inbound strategies (including website development) and affordable outbound strategies. Find out which marketing strategy is suitable for your business!
Hope you have enjoyed and gained an insight from this article. Join our Netstripes community on Facebook, Instagram and LinkedIn and stay up to date with the newest marketing trends, tips and events.
---

The Next Step to Digital Empowerment of Small Business Owners