The 2022-23 Federal Budget delivered much-needed tax breaks and business grants for small and mid-sized businesses. The biggest news was the allocation of up to $1 billion for digital adoption through the 'Small Business Technology Investment Boost' and 'Small Business Skills and Training Boost' measures.
The new measures enable businesses to claim a $120 deduction on every $100 spent on depreciating assets that support digital adoption.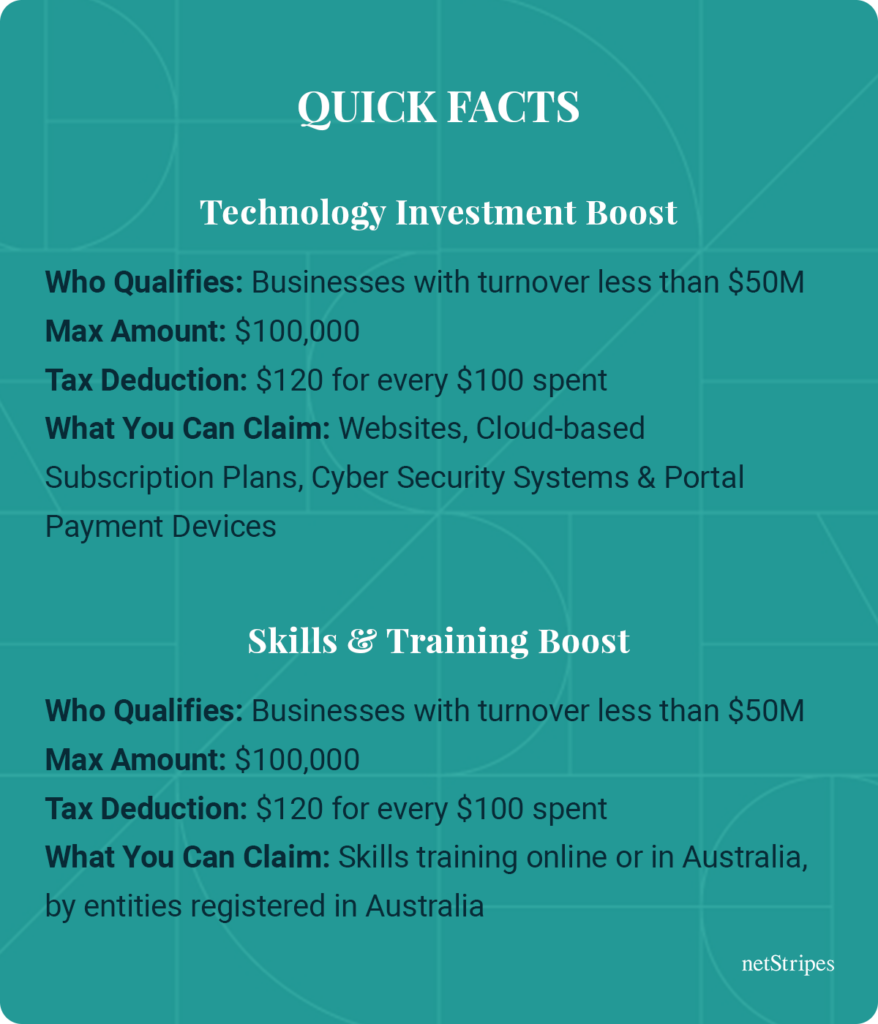 This will allow more small businesses to invest in their digital capability.
Treasurer Frydenberg stated the bonus deduction was aimed at cutting the cost of going digital and backing businesses that were "embracing the digital revolution".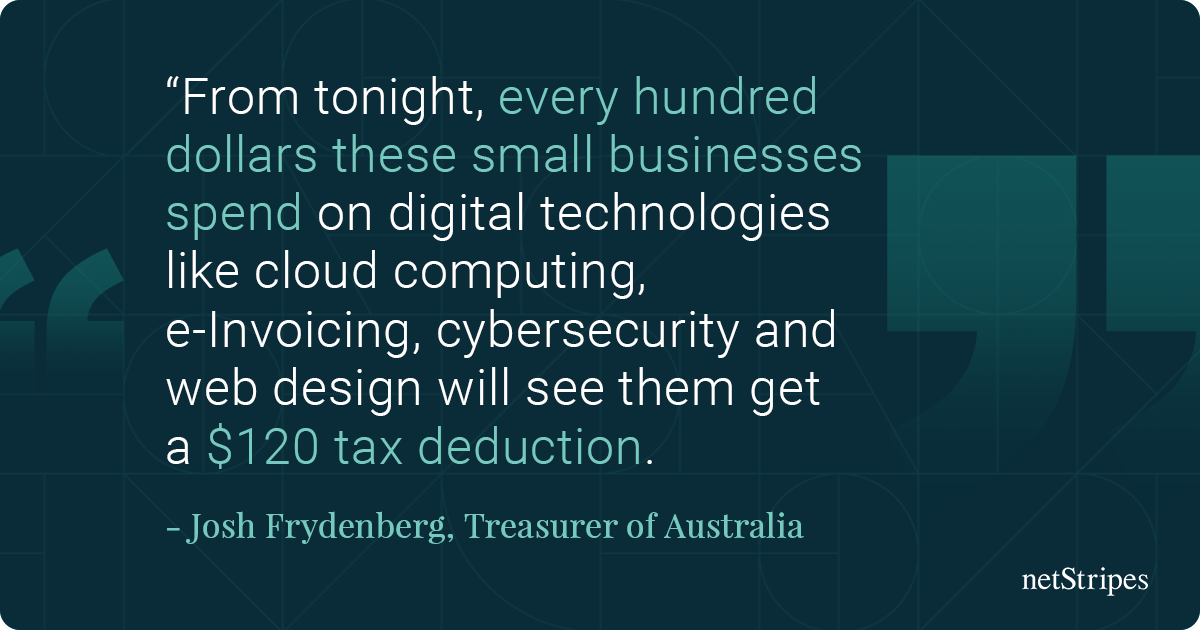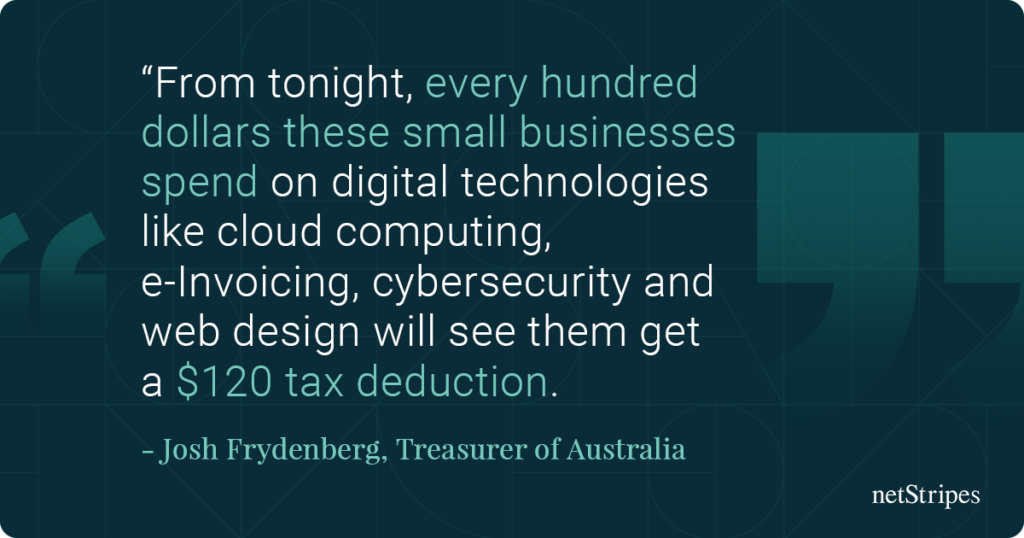 So..how exactly do the tax breaks work for small businesses? Let's break it down for clarity.
Small Business Technology Investment Boost
If your business has an aggregated annual turnover of less than $50 million, you can use the Technology Investment Boost to get a 120% tax deduction for expenses on digital technology with an annual cap of $100,000.
The range of assets and services that support digital adoption for your business include:
For digital expenses made between 7:30 pm AEDT 29 March 2022 until 30 June 2022, claim the expenditure in your 2021–22 tax return, and claim the additional 120% bonus deduction for this period in your 2022–23 tax return.

The Digital Strategy Advisory Sessions provide you with the best in digital expertise from experts in the field.
Small Business Skills and Training Boost
Under the Skills and Training Boost, your business can claim 120% of your expenditure on external training for employees if your aggregated annual turnover is less than $50 million.
Training must take place online or in Australia, by entities registered in Australia. In-house training and on-the-job training are not included.
Expenses before June 30 2022 can be claimed as usual in your 2021 – 22 tax return and claim the additional 120% bonus deduction for this period in your 2022-2023 tax return
The journey to SME digital transformation
netStripes has been steadily campaigning for digital adoption on behalf of SMEs since 2014, having first met the former Federal Minister of Small Business, the Hon. Bruce Bilson in 2015 to raise awareness on the issue.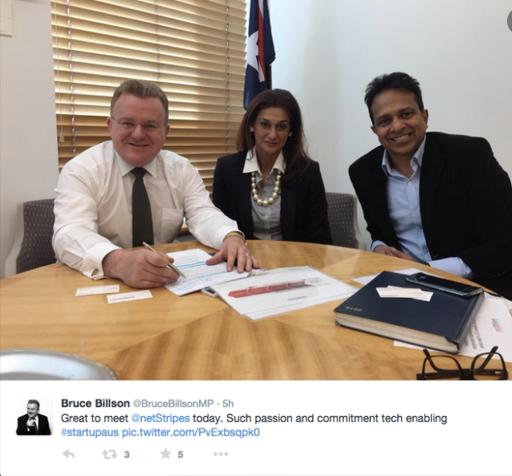 Since then, we've worked with four other ministers who held the portfolio of Federal Small Business Minister, by sharing our research and proposing actions for SME digital adoption.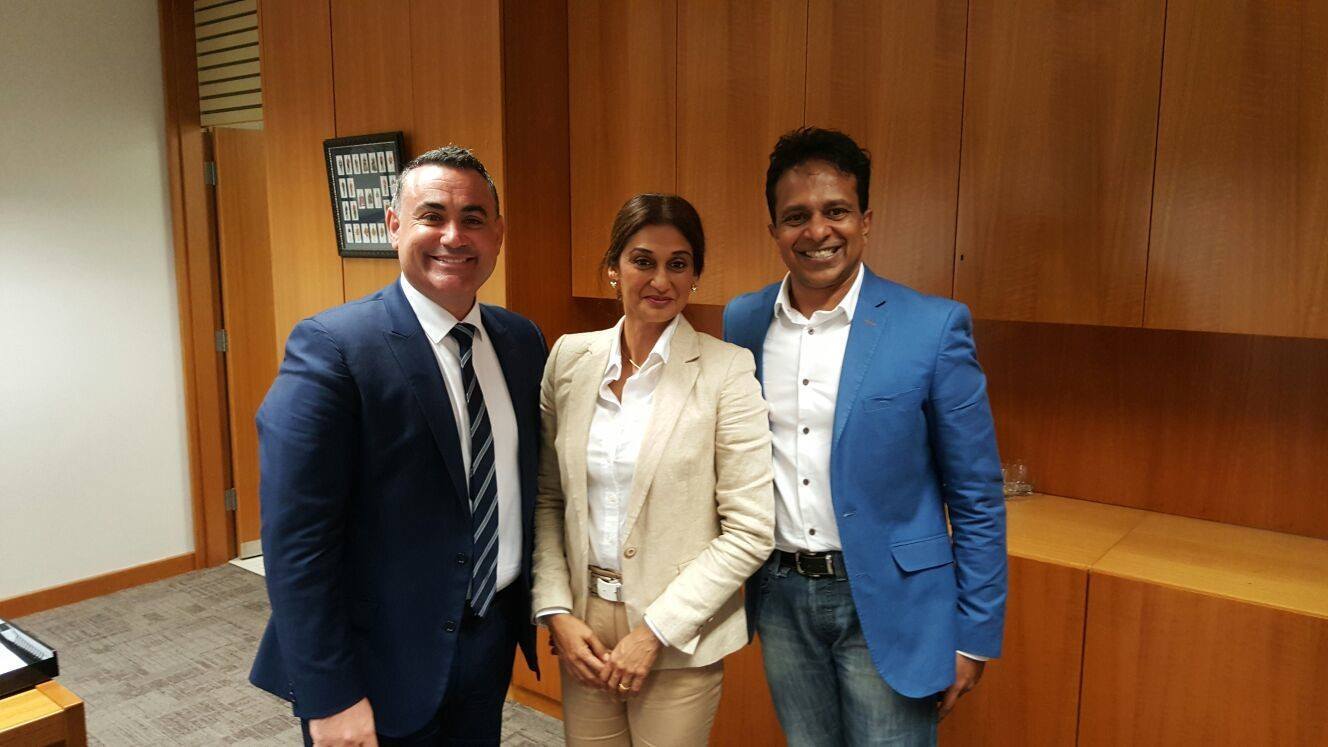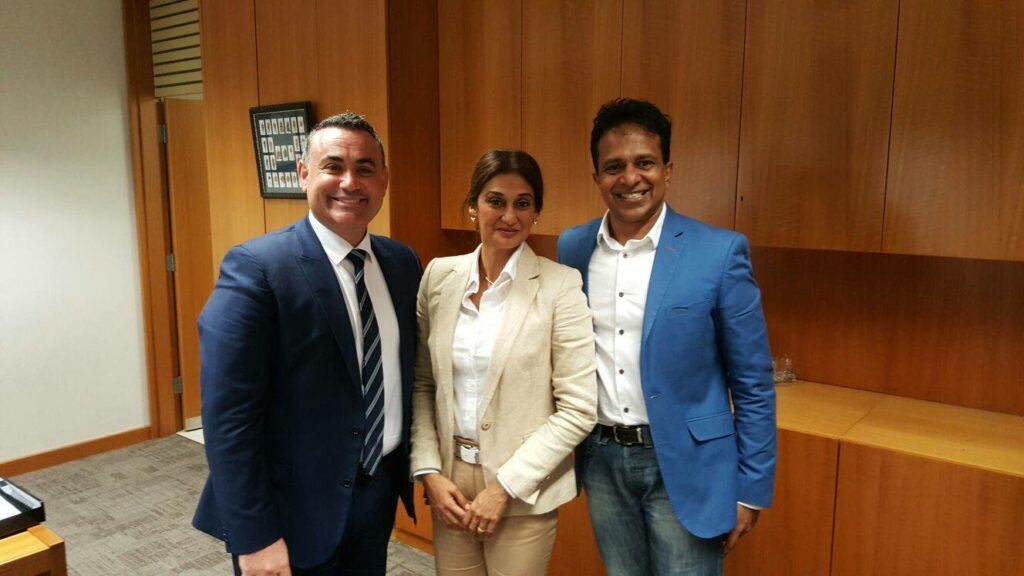 In addition, we've worked closely with the NSW and regional governments to create mass awareness of digital disruption for SMEs and its impact on businesses.
We think the 'Small Business Technology Investment Boost' and 'Small Business Skills and Training Boost' is an incredible initiative from our Federal Government for the development of SMEs around Australia.
What you need to know before you start digitising
It is important to follow a clear pathway to get the desired results from investments in digital marketing.
Too many businesses have made the mistake of jumping into creating a website, or advertising online, only to find that after having spent all that time and money, they did not achieve the desired result.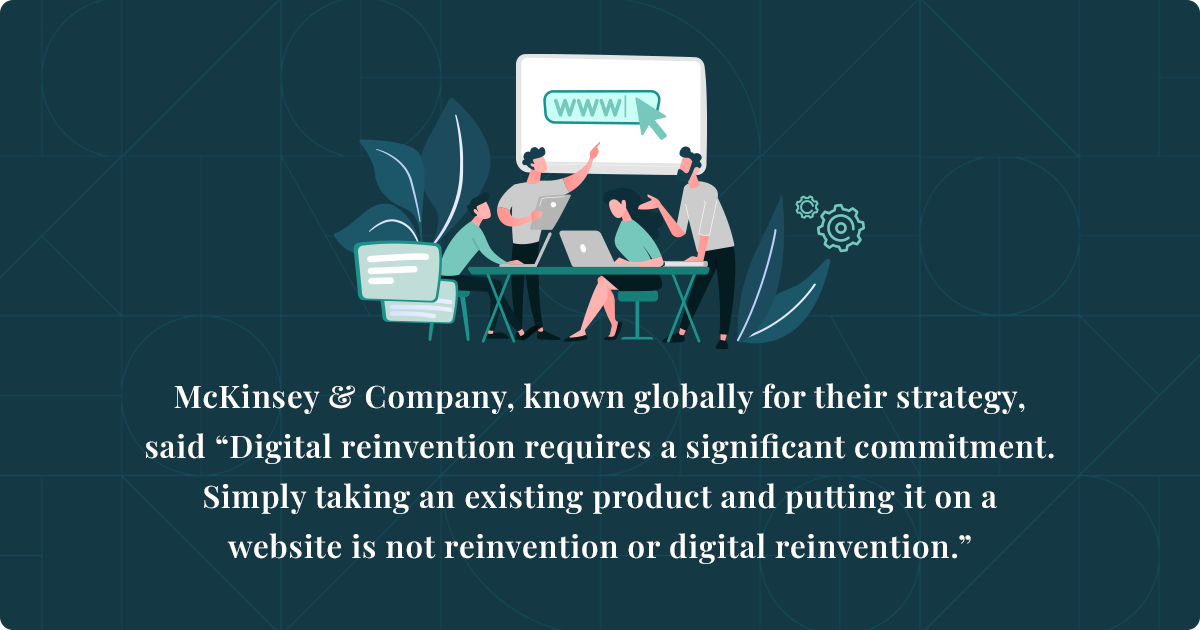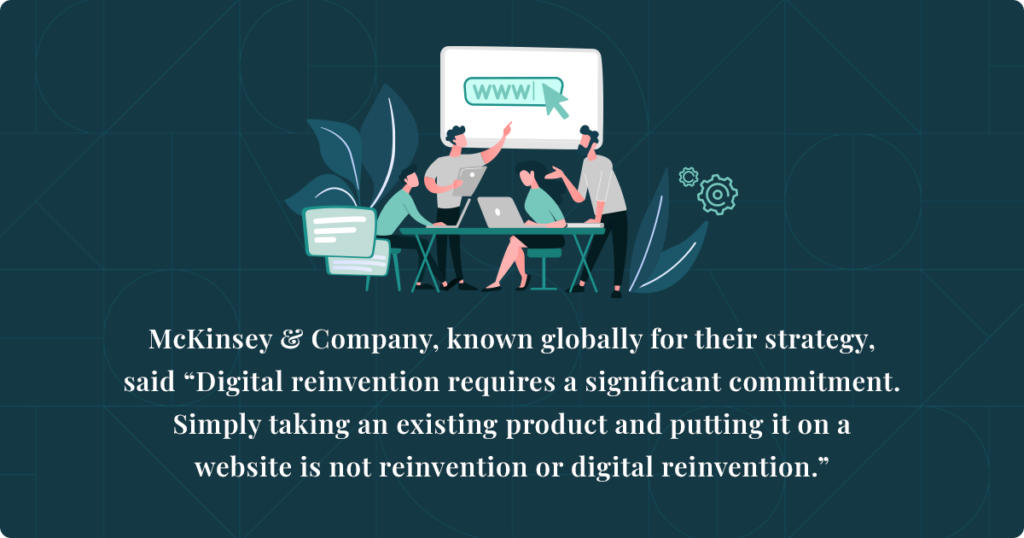 The digital specialist for small business
As acknowledged by industry associations and governments, netStripes have created the most effective system for small and medium businesses to transition to digital success.
Our five-step framework for high-performance digital marketing, which has been used by hundreds of businesses, has been specifically created for small and medium businesses with over 15-years of intellectual property and having researched over 10,000 businesses.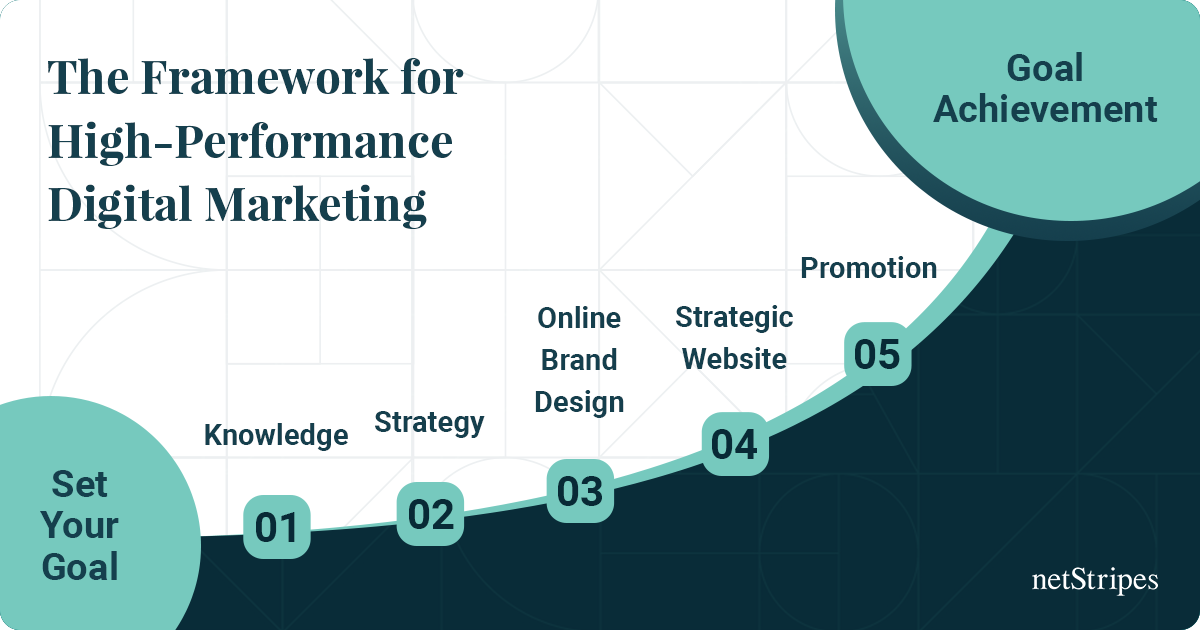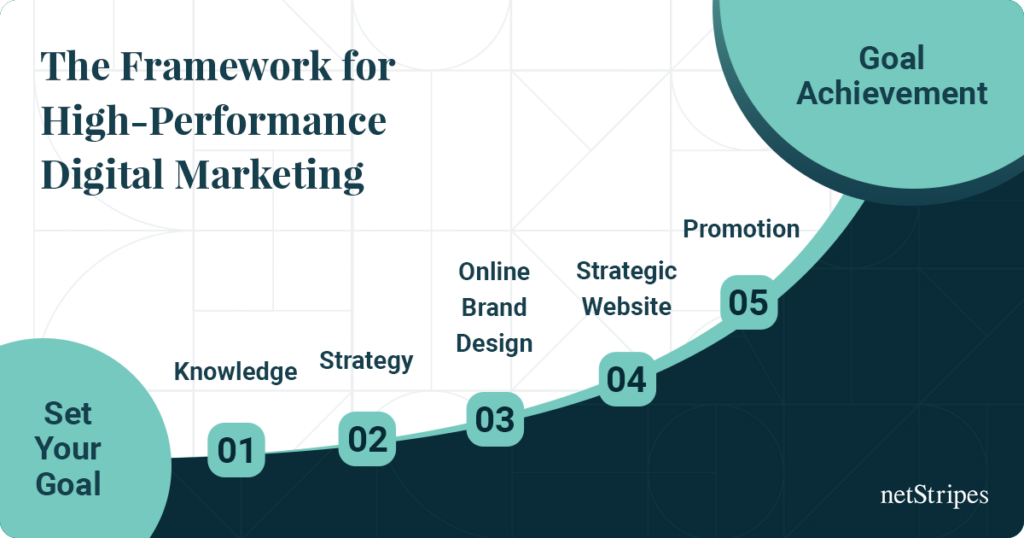 The following steps will provide you with a pathway on how to start.
What steps you should be following:
Understand the best process of action for your business
Understand the investment options clearly
Agree on time-frames to start and complete the process
SME Success Stories
Bespoke Catering Sydney – The best year ever for sales
A retail focused event caterer, Bespoke Catering's main customers were wedding clientele.
However, with events cancelled during lockdowns, Founder Fabio Funai pivoted the business model strategy to include new services that enabled him to continue catering to clients at home.
The result, despite the pandemic, the sales in financial year 20-21 was the best ever.
Speck Finance – Success in the first 12-months
Founder and finance broker Becky Baker, was new to the mortgage brokering industry. She needed a strong digital presence with the right strategy for her business to succeed in a highly competitive industry with over 16,000 other brokers.
With the help of netStripes, Becky built a highly successful business in just over 12-months after starting! She is now looking to hire other brokers for her young business to keep up with demand.
This was because Becky understood the importance of having a digital presence for her business.
The result is a strong brand and business website that clearly communicates her credibility as an expert, and the solutions she can provide.
Flat Rock Brew Cafe – From traditional to digital success
Flat Rock Brew Café's business model catered to serving walk-in guests and was severely impacted by the pandemic.
Faced with the possibility of closure, Founder Karl Riseborough worked with our digital experts to build a new strategy that would transition his business from a traditional model to a digital business that catered to a loyal set of local clientele.
Sterling Results Fitness Club – Tripled revenue with 18-months
Established by certified fitness instructor Sonia Wray, she created her initial website with a free website builder. However, despite having a background in the tech industry, winning customers and differentiating from countless others in the industry proved to be difficult.
The solution was a slimmed-down strategy that narrowed her target audience, and finding the right marketing channels to advertise on.
A professional website was also created with new branding that invoked trust and credibility, working in alignment with the strategy and brand messaging.
This is what really made a difference for her business and helped triple her revenue within 18-months.

Your first step to building a world-class website starts here.
So, what does all this mean? It's an excellent time to invest in your business's digital growth and make the most of all that doing digital can do!
Build that website, buy that cyber support, and provide your customers with a seamless online experience. And we can help you with this.
Website Design & Development
Digital Strategy Blueprint
Online Brand Design
Website Development
Our website design and development services which include all of the above, are eligible expenditure assets, which means you can benefit from our world-class, highly functional websites.
netStripes also provides 12-month payment plans so you can pay as you earn, and claim your deductions at the end of each financial year.
Social Media Marketing Package
Facebook & Instagram Advertising
Google Advertising
Retarget Advertising
Analytics & Reporting
Monthly Expert Guidance and Mentoring
Cyber Security & Tech Support
Our social media marketing packages which include the above, provide the flexibility to grow your business with results-focused subscription plans. The plans are ideal for business owners with different goals and budgets.
We think this is an incredible initiative from our Federal Government and look forward to helping businesses like yours grow. 
Contact us on 1300 10 8880 or send an email to bc@netstripes.com to learn more about our services.
---
Please speak to your tax accountant for all tax and investment related advice. Information provided above does not constitute advice.