Australia has experienced many crises over the years, from the covid-19 pandemic to the global financial crisis, drought, and bushfires. For this reason, it's crucial to build a business that can withstand a change in policies, economy, and even climate.
The pandemic has shown us that for any business to stay active, it should have a strong digital and marketing system that can pivot business and adapt to any situation, satisfy customers, and keep cash flow steady. As a business owner, you need to be able to successfully pivot the business during times of crisis by reassessing your services to deliver your brand promise. 
A great example of successfully pivoting a business is our client Sonia Wray who owns a gym in Sydney. Although her clients couldn't physically attend during the lockdown, she understood they still had the same need for a fitness instructor. To cater to her clients she reinvented her business model.
Sonia did this by getting her online infrastructure and digital strategy right. This allowed her to pivot business within a day of lockdown to deliver online classes. By making these changes, she grew the business during the pandemic from a Sydney-based gym, to an online fitness club that served clients across Australia. And unlike her business which had built the right infrastructure, her competition was closed down during the lockdown.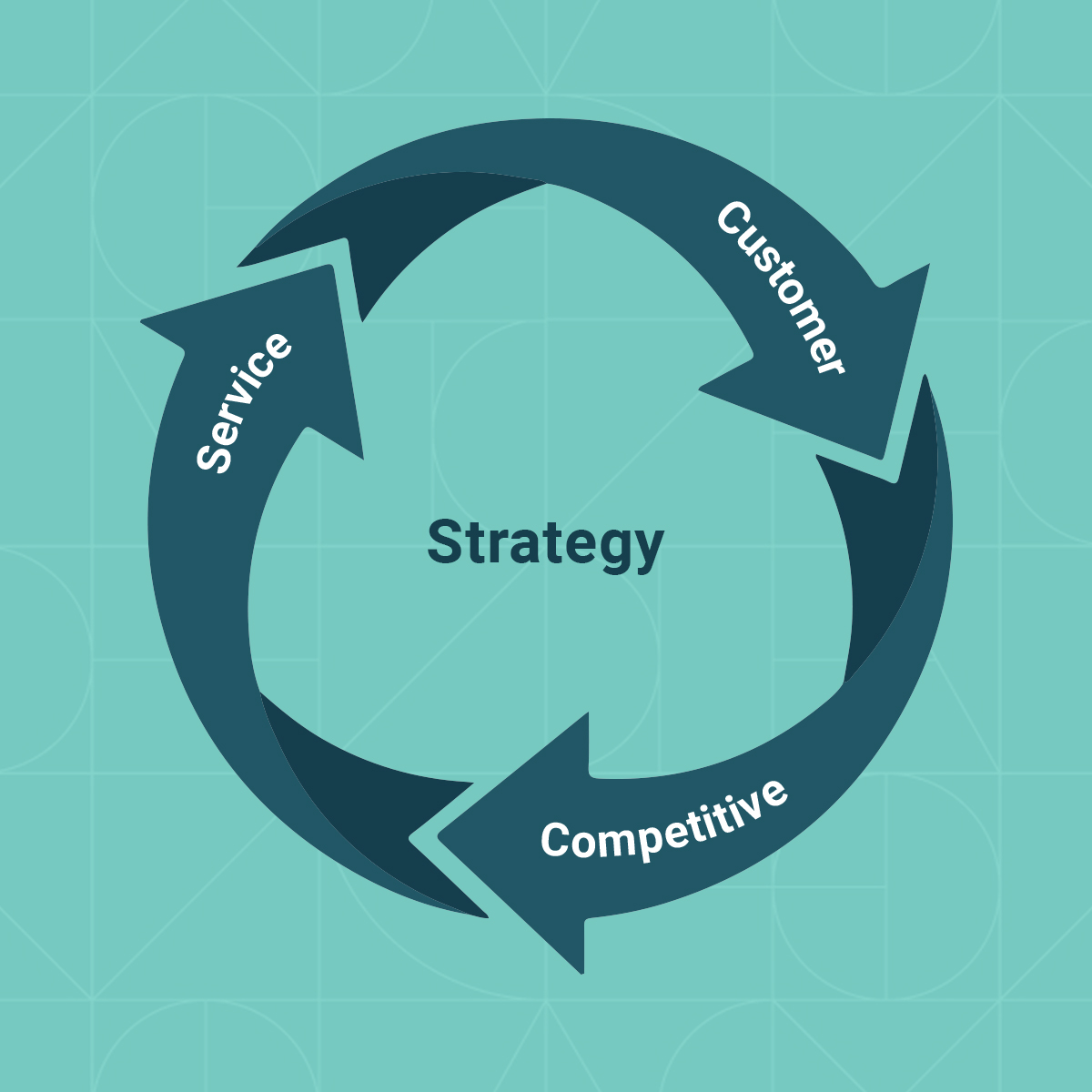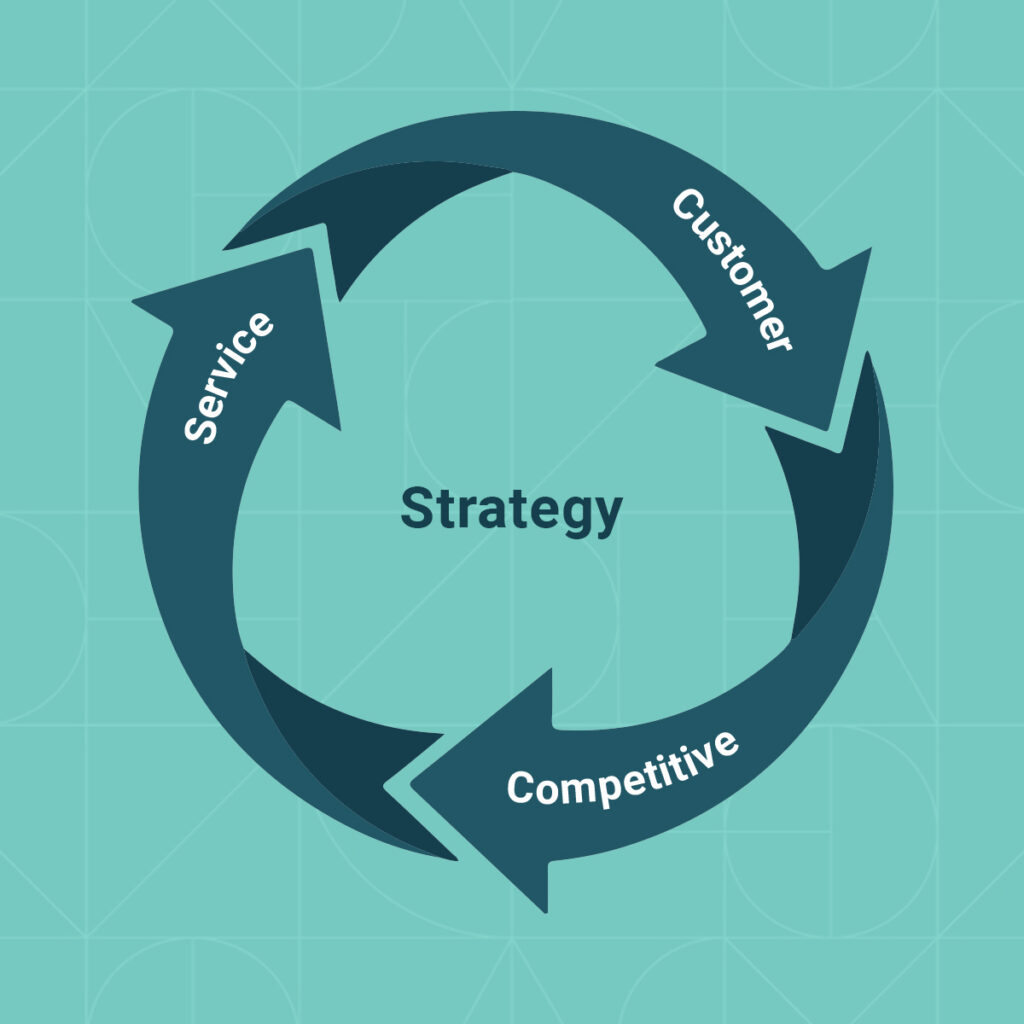 Sonia was able to make this transition by following a few strategic steps to reinvent her strategy. It catered to the new needs of her customers, created a value proposition and positioned her business apart from competitors. 
Understanding the strategic process
Strategy can be segmented into three strategic areas – Customer, Competitor, and Service strategy. Understanding the importance of each area and how it works will help create a cohesive strategy that covers all aspects of your business. 
The most fundamental part of designing a successful strategy is knowing your ideal customers and their needs. This information will enable you to move forward to create a value proposition and position your business apart from competitors. 
Understand who your ideal customers are


Your ideal customer is the person you love working with and vice-versa, because you are resolving their pain points. And as a result, they value your business and are willing to pay top-dollar for it.
The people you don't like working with are the 'anti-persona'. They consume all your time and energy and impact business negatively by trying to haggle on services. Most importantly, they affect your confidence, and this is one of the biggest issues people have.  
Fine-tune your services for a unique value proposition (UVP)
When you fine-tune your services to suit the needs and wants of your ideal customer, you'll be able to create a UVP that positions the business apart from competitors. This rarely involves any big changes, and you'll notice the competition reduces when focusing on a niche market. 
For example, our client Fabio Funai's business Bespoke Catering was forced to cancel all its booked events due to social distancing rules. Unable to book events and with no revenue coming through, Fabio had to rethink his business model and pivoted the business to suit the needs of his customers.
He did this by reinventing his services to providing a catered home dining experience with free delivery. As a result, while Fabio ended the year without a drop in revenue, most other businesses in the same industry lost up to 80% of their revenue. 
Create trusted branding before building a website 
Consumers are time-poor and want to make quick decisions. They have to be convinced within the first 2 to 4 seconds of opening a website! To do this, your branding must embody your strategy and invoke instant trust and credibility.
A common mistake business owners make is skipping these steps before building their website. As a result, the brand message and visuals doesn't resonate with your customers. The number rule of thumb in digital marketing is – don't drive traffic to a website that doesn't deliver results! 
Since Fabio already had a world-class design that created a sense of instant trust and credibility with visitors, he only needed to make a few small changes to his website to introduce the new services, and his hard work quickly paid off.
---
This strategic approach to building your online business will enable you to quickly pivot during times of uncertainty, and reinvent your business model for success. 

Your first step to building a world-class website starts here.